Waulis technology enables car industry to avoid Billion Euro annual emission sanctions by reducing fuel consumption up to 30%!
Waulis Motors Ltd has patented a revolutionary technology enabling car manufacturers to avoid Billion Euros annual emission sanctions in EU only. The technology is based on mechanically reprogramming the engine to be 30% more efficient and thus reducing fuel consumption and emissions (CO2). Our aim is to license the technology to the main manufacturers for them to integrate it to the already current generation of engines. Waulis technology is different from competitors as it requires no new manufacturing processes neither major modifications to existing.
Waulis Motors Ltd mission is to help car manufacturers to meet market demand and new regulatory emissions norms. Our Vision is to be major technology licensor to the car industry within just few years.
We are seeking private investments to complete the engine tests and the Intellectual Property protection. Completion of the laboratory verification will allow Waulis Motors Ltd to start selling the technology to the car manufacturers. We expect this to happen in early 2015. Waulis Motors Ltd getting into revenue phase will enable dividend payments, multiply the investment value and provide resources to protect the next innovations.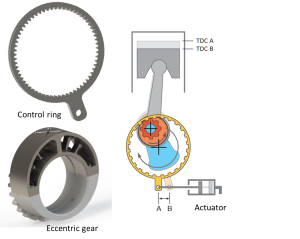 Our technology has only three parts (1) eccentric gear, (2) control gear and (3) control actuator as shown in the picture. Waulis Motors Ltd business is to license the usage right of the technology to the motor manufacturers. Without Waulis or similar technology car manufacturers are facing penalties over 1000€ per car sold by year 2020 based on average reduction trend of CO2 emissions – if nothing new revolutional is available like Waulis . With 12 million cars sold in Europe this means over 12 billion euros penalties annually. Waulis Motors Ltd annual licensing revenue potential in Europe only is in excess of 300 million euros with 10% technology penetration. The global total addressable market is 100 million vehicles per year.